Only one name pops in my mind whenever I am asked which survey site has given me most success personally, and it is Toluna. This survey site is one of my favourites for earning money and having fun while I do it.
Click here to start doing paid surveys now.
Toluna is best at offering surveys that are specifically catered to your personal preferences and interests. What makes it more interesting is that they have various payment options and a reward centre that lets you use your points to purchase and e-vouchers and other things easily and with just a few clicks.
Let me tell you more about how I earn points and money with Toluna, and why you should sign up now.
Toluna Review 2022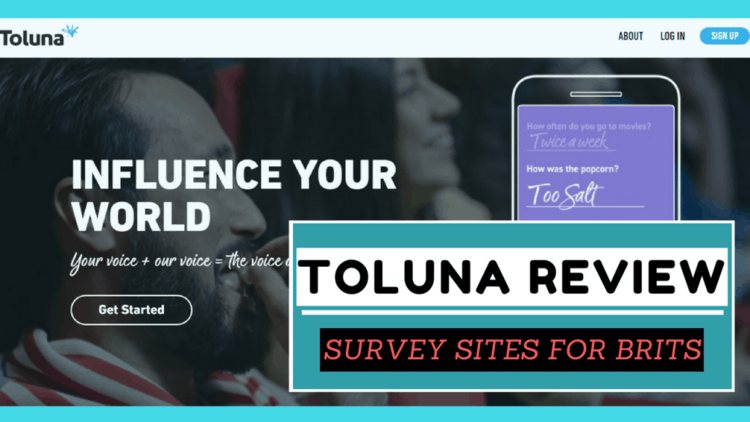 Regularity of surveys
I've been a member with Toluna for over a year now and have been receiving multiple survey offers a week via their site. I've agreed to receive email notification as well as SMS reminders which makes it super convenient.
Having mentioned that surveys received are based on your interests, not all fits everyone. It's very helpful to fill in your personal info or profile with accurate information about yourself so you receive accurate survey offers. You wont feel like you're wasting time either as you get 100 points for every personal profile survey you complete – so better surveys and even more points!
Earning points
To start earning points, you need to be a registered Toluna member with a verified email address – this instantly gets you 500 points with a successful registration and it's a great way to welcome you to the Toluna community.
One of the best ways to accumulate points is to participate and complete surveys/profile surveys via the Toluna site or through invites you receive via email. Surveys generally pay around 15-50,000 points depending on the survey length and when you've earned enough points, say 60,000 points, you may redeem your points for some great rewards such as e-vouchers for shops and brands and even PayPal credits upon reaching a specific amount of points.
Other options are also available to earn points. You can be awarded additional points just by inviting your friends to join Toluna and completing their registration. You can also earn points through sponsored polls within the community. You can even test products if you're looking for freebies. Items are delivered to you by mail if you get selected to participate.
Toluna also holds weekly prize draws which gives you a chance to win £100 weekly.
Pay
Toluna is paying quite competitive rates and as the surveys are received regularly, you are paid on regular intervals as well depending on how many surveys you get to complete. This works for me although surveys can pay less that other survey sites online.
For each survey, I typically get around £2 – £3. Depending on the length of the survey, the longer it is, the better the pay of course. There are also some surveys which reward me more than the usual so it really depends on the survey type and length. Spending 15-20 minutes for each survey is not bad at all for the pay off.
How to redeem points?
The Rewards Centre that Toluna has is definitely one of the best. With so many options, it is indeed great for purchasing e-vouchers or gift cards, and other wonderful goodies as well that allow you purchase them straight from your accumulated points. Items you've redeemed are usually delivered within 4-8 weeks.
PayPal transfer is my preference but I have also redeemed a few e-vouchers and given them to my friends as gift cards.
Things to note
One thing to note when signing up with Toluna is that it might take time to receive points from surveys completed. It took a couple of days for my points to reflect on my account for the first few weeks after my registration. As for now, it is of no issue at all as I am now getting my points in just a day or two after participating in some surveys.
Another thing to take into consideration is if you prefer PayPal transfers, you might need to save up to 190,000 points to enjoy this reward option.
Summary – 4.5/5
Toluna is definitely one of the best survey sites. With regular surveys to participate in and various rewards & payment options, this site sure is a winner for me. You not only get to complete surveys but can also invite friends to enjoy the same rewards they offer. You can participate as well in product tests, polls and content creation to take part in the change that the Toluna community is aiming for.
If earning money with online survey sites is what you're inclined to then include Toluna in your list and sign up at your soonest convenience.
Click here to sign up to Toluna now.
Want to learn more? Read about other sites that offer paid surveys and online surveys for cash. Or find all my survey site reviews here.