If you like to watch TV and listen to the radio, you might find Gfk MediaView Panel to be one of the most engaging online survey sites.
Gfk MediaView Panel is a legit survey site offering a range of prizes for completing surveys. This site is unique among paid survey sites in that their surveys are usually very short and focus on current media programs. This makes their surveys super easy and fun to complete.
However, there is a catch – in order to get paid, you actually need to win a prize. So is this site worth your time and energy?
Let me tell you more about how I earn points and money with GfK MediaView Panel, and why you should sign up now.
Click here to start doing paid surveys now.
GfK MediaView Panel Review 2023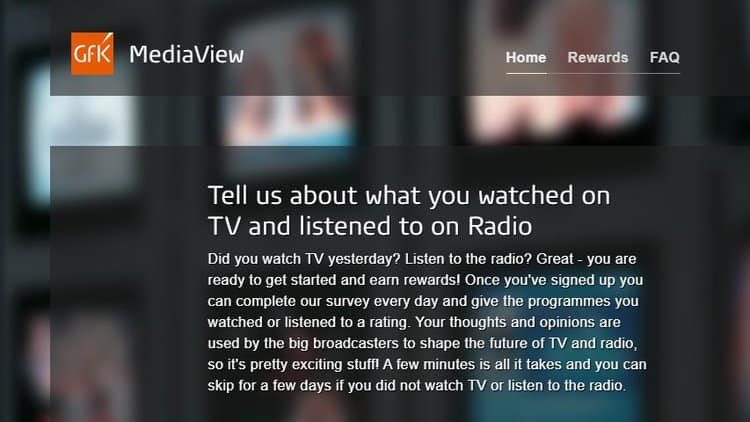 Regularity of surveys
Gfk MediaView panel has a good range of surveys aimed at understanding your opinion on different media programs. As this site is one of the few that are actually located in the UK, survey offers are quite consistent.
Once you become a member you will receive access to their survey offers. You'll find the dashboard offers split in two – one for radio and one for TV. These are updated daily and, based on the programs you've watched that day, you'll find a range of survey opportunities to complete.
They also have the benefit of not disqualifying you with pre-survey questions. So long as you've watched the program, your opinion will be counted. Just remember to complete the survey before the specified deadline.
Earning points
The only method for earning points with Gfk MediaView Panel is with their paid surveys. Thankfully these are fun and super fast to complete.
Both TV and radio surveys offer a different payment rate (see below), but in general you can get paid 500 points per 5 minute survey.
These points can be used for participating in their weekly prize draws, of which there are 3 tiers – bronze, silver and gold. The can reach a higher tier by completing more surveys (you'll need to complete 5 to get to gold). The higher the tier you reach, the better the prizes you'll have access to.
Pay
Radio surveys pay 100 points and surveys on television programs pay 200 points.
How to redeem points?
Points can only be redeemed for prize draws. This is perhaps the biggest downside of Gfk MediaView Panel – there is no guarantee you will actually win the prizes, although you can give yourself a better chance by completing more survey offers.
There are some pretty good prizes on offer like vouchers to spend online or in store, experiences like travel, tech gadgets and cash.
Things to note
Gfk MediaView Panel also offers a mobile app which is great for completing surveys on the go. Their app is available on both iPhone and Android and is simple and easy to use.
Sign-up is available to all UK residents over the age of 16. You'll need a valid mobile number to join and to ensure you complete at least one survey every six weeks to keep your account active.
Summary – 3/5
There's no doubt that this site offers more engaging surveys than many sites, especially for those who enjoy discussing the things they've seen on TV or heard on the radio. In addition to this, their surveys are fast and they have some great prizes on offer.
However, the fact that you aren't guaranteed a reward is certainly a downside and I would only really recommend this site to people who enjoy discussing what they've seen on TV or heard on radio.
Click here to sign up to GfK MediaView Panel now.
Want to learn more? Read about other sites that offer paid surveys and online surveys for cash. Or find all my survey site reviews here.