MySurvey has recently merged with Global Test Markets to form the survery company, LifePoints. LifePoints is the best of what both companies offered. You can sign up here!
I have reviewed quite a few survey sites already. What I will be sharing now is a site that I've been exploring more recently – MySurvey.
Click here to start doing paid surveys now.
I am particularly interested in this site as it has a special type of membership program whereby the more surveys you complete, the better the incentives are and the higher the pay rate. You also get additional entries into prize draws and sweepstakes.
Learn more about why MySurvey claims to be the World's #1 Paid Survey website below or click here to sign up now.
Making Money with MySurvey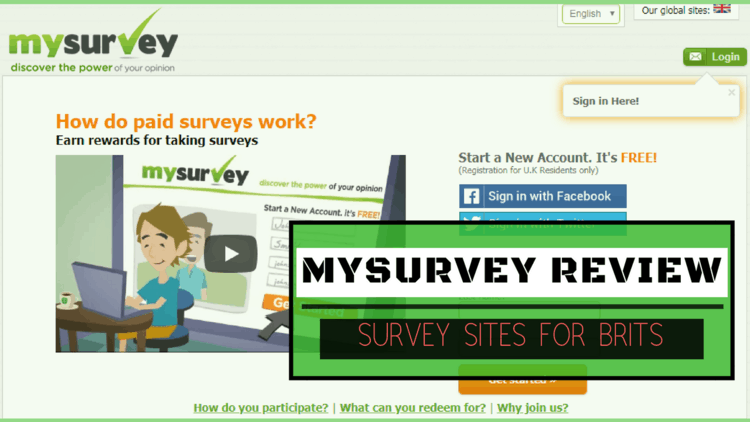 Regularity of surveys
Upon signing up to MySurvey, a lifestyle survey which serves as your introduction/profile is to be completed. Just by initially doing this, I earned my first 50 points. From thereon-in the info focused on my personal information and interests.
As for the availability or intervals of surveys received, I usually one every few days and they are ready for me to answer instantly upon notification.
Surveys are not as regular as the other sites but I rarely find my dashboard empty so I always have one to complete.
I find the surveys fun and rewarding since I am able to voice my opinion while getting rewards at the same time. Some surveys also allow me to learn new things about myself so participating has also been quite eye opening!
Earning points
The best way to get points with MySurvey is by joining and completing their surveys. Do note though that some surveys won't pay you points – some only give you prize draw entries. With MySurvey, you will reach a new membership level the more you complete surveys.
Pay
MySurvey payments differ depending on the survey type. Surveys reward you with around 100 to 500 points. I strongly suggest you check each survey for their corresponding points and if you think they're worth your time. £1 equates to about 100-110 points and it takes about 8 weeks maximum to process and reflect in your account.
Redeeming points
MySurvey presents lots of ways to redeem your points. They have a variety of products, gift cards, e-certificates, e-vouchers and many other options. You can also choose to receive payment through your PayPal account which is what I mostly prefer to do.
Things to note
Make yourself aware of the exact payment for each survey you participate in as some only gives you an entry to MySurvey prize draws.
Summary – 4.0/5
Click here to sign up to LifePoints now.
Learn more about paid surveys and online surveys for cash. Or find all my survey site reviews here.