Paid Surveys UK 2019: All The Best Paid Surveys For Cash
There are now so many ways to make money online, but by far my favourite way is to make money doing surveys. The reason? Doing surveys for cash is free, convenient and takes a minimal amount of time. You can do surveys for cash when you want, where you want and as frequently as you have offers.
By signing up to a range of survey sites, I always have a fresh online survey waiting for me to complete, and while they don't pay enough for me to quit my day job, paid surveys at home do afford me a few additional luxuries.
Doing paid surveys for money in my opinion is the best way to spend your spare time.
If you're looking for the top survey sites to do surveys online for money, keep reading. I've written this guide to help Brits have success with paid surveys UK has to offer, just as I have.
I've listed sites that offer the best paid surveys and advice from my experience so that you can start to get paid for surveys now!
Quick comparison of the best paid survey sites 2019
Compare the best sites offering online surveys for money UK below…
Why do you get paid for surveys?
Take a moment to imagine you are creating a product to sell. You want to have success selling this product, so you need to establish what it is people want and fine tune it to match their needs.
This is the rationale behind why you earn money by completing surveys.
When you do online surveys for money, you offer your opinions by participating in market research. This has huge benefits for the companies doing the surveying – primarily the cutting of costs and the additional success of creating products we want to buy, rather than ones they want us to buy.
The companies requesting you to complete surveys online for money are willing to pay for this as they recognise the value of your opinions and time. While not all UK surveys will be about products, they do value your opinions.
Generally it's not the survey provider themselves questioning you (except in the case of profile information), but research for other organisations.
Surveys for money UK are not a scam. They are a legitimate way to offer your opinion in to shape new ideas, products, pursuits and change. You can have an impact and get money for surveys while you do it, which is what makes paid opinion surveys so rewarding.
How to find the best paid surveys UK
To have the best chance of success with paid online surveys UK, you need a strategy. Here's what I recommend you do to start to earn money taking surveys…
1. Sign up for multiple sites.
To ensure you have the best chance of finding online paid surveys I recommend you sign up to more than one site.
A few survey websites that pay well to start with are Toluna, i-Say and Swagbucks (you can read their reviews further down). This will give you a chance to get a feel for online surveys without being swamped with offers. You may also find a bias for your particular demographics with a certain site.
For example, I seem to have more success with Toluna than any other site, whereas others have had minimal success. The only way to know is to try.
Take note of the requirements of each site as most have a minimum age requirement and some look only for specific demographics.
You should also make sure the site offers paid surveys in the UK. You'll find the sites that offer this further down this page.
2. Work on completing your profile fully.
Ensuring you have your profile complete works in your favour. The more questions you answer about yourself, the more likely you'll be to receive the best online surveys for money. These surveys will be tailored to you and the likelihood of being screened out is reduced.
Some sites will incentivise you to fill in more profile information by providing points for doing so. Provide as much detail as you're comfortable with.
3. Set up notifications.
You'll never know how to make money from surveys if you don't know when the best offers arise.
Nearly always surveys have a quota, and the most popular ones fill up fast.
To ensure you get the chance to complete the best surveys for money I recommend setting up email/SMS notifications whenever possible. This way you'll never miss great offers when they arise.
4. Take it seriously.
Ensure that you provide valuable and resourceful information when you complete surveys for money.
It can be tempting to skip quickly through surveys or answer questions without trying but avoid this. There are checks in place to ensure you don't contradict yourself.
The better your answers, the better your chance of securing the best paid online surveys in the future.
Top paid surveys reviews UK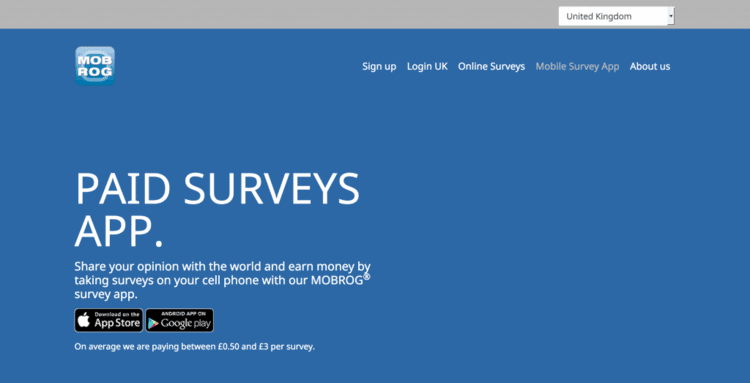 MoBrog is the first site in my list that allows you to make money with online surveys which you can do conveniently on your smartphone. To take surveys for money you simply download the app which has been specifically designed for smartphone users.
They offer surveys for cash on topics of science and other market research and are particularly great with transparency.
They tell you how much you'll when you answer surveys for money before you commence it to ensure it's worth your time, as well as letting you know how many spots are remaining.
How much do they pay?
MoBrog offers surveys that pay well with each survey paying between £0.50 and £3 on average. This may seem low but the surveys themselves are quick to complete and you are always informed how much you will earn before taking part.
How do you redeem points?
MoBrog pays via PayPal once you reach the threshold for withdrawing payments. You can withdraw cash twice at day at most.
It's worth noting that your PayPal account needs to use the same email address that you sign up with.
Score – 4.0/5
MoBrog is a survey company that has existed for a while and offers legit paid surveys, but the regularity of surveys is not amazing in the UK. You may have a different experience as you could better match their demographics. The only way to know is to sign up and try.
Click here to sign up to MoBrog Surveys.
Another survey site offering some of the best paid surveys is Opinion Bureau, and anyone over the age of 14 can sign up and fill out surveys for money.
Surveys can vary quite a lot in regards to pay and length and offers are mostly dependent on the demographics you provide, but many reviews have found surveys to be consistent.
Their surveys are for market research and mostly centre around brands you've interacted with and decisions you've made.
How much do they pay?
Anyone can earn money doing surveys with Opinion Bureau, with each survey on average paying between £1 to £10 making them one of the best survey sites to make money.
Surveys do pay quite well but are dependent on factors like the amount of time the survey takes and the complexity of the questions asked.
How do you redeem points?
With just £10 in your account you can begin to redeem rewards. You can get a variety of gift vouchers to use with Amazon, Flipart or even a PayPal transfer, making your points redeemable for cash.
Score – 4.5/5
Opinion Bureau offers allows you to earn money by doing surveys online with consistent offers and a good pay.
Click here to sign up to Opinion Bureau.
YouGov UK
YouGov is another site which allows you to make money doing online surveys. Anyone 16+ can join and get paid to take surveys.
Their surveys are generally shorter when compared to other top surveys sites, taking about 15 minutes to complete on average and 20 minutes at most. Most surveys online include 20 to 30 questions.
While the company itself has nothing do with government, they do offer more high profile online surveys.
The regularity of their surveys are highly dependent on the demographics you provide them with, so it's important to fill in as much information as you can.
How much do they pay?
YouGov has quite a good rate per survey. You receive between 500-1000 points per survey, with 1000 points equating to £10.
How do you redeem points?
You can withdraw points for a £50 cash transfer when you reach 5000 points in your account. There can be a time delay as cash is applied within 1 month of withdrawing points.
Score – 4.0/5
YouGov is a quality company which allows you to get paid to complete surveys with a great pay rate. You can also check out the results of the surveys you've participated in as they are anomalously posted as opinion polls.
Click here to sign up to YouGov UK.
Toluna Opinions
A well established site offering legitimate paid surveys is Toluna. A global site they are one of the easiest sites to use.
Toluna pay you for completing additional profile questionnaires and have a great rewards centre, sizeable online community, sweepstakes and lots of other benefits when you take online surveys for money.
How much do they pay?
With Toluna you will receive points for the surveys you complete. Points can vary quite a bit – from the shortest surveys paying 15 points to the longest phone participation surveys paying up to 50,000 points! The average survey pays about £3.
Note that there can be a delay when having points applied to your account, but this never takes very long.
How can you redeem points?
Toluna has a great rewards system allowing you to get paid for surveys in the UK. Points can be redeemed in a variety of ways. With a small amount of points, you can redeem online vouchers, and with more you can get a PayPal transfer straight to your so that your points translate to cash.
Score – 4.5/5
Toluna remains one of my favourite survey sites to make money answering surveys.
Click here to sign up to Toluna Opinions.
Swagbucks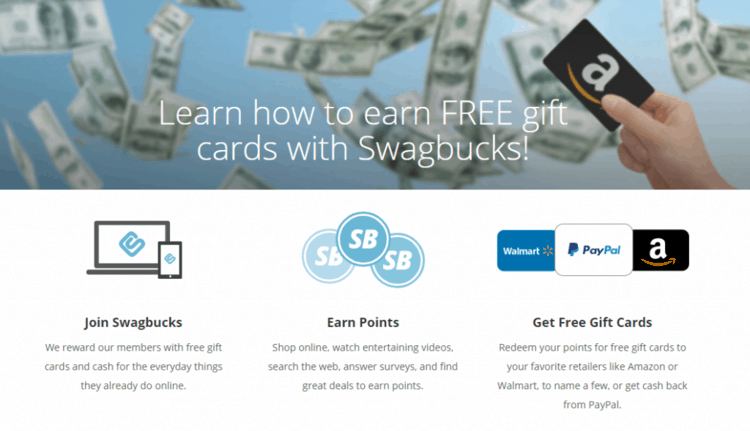 Another popular global site where you can get paid to do online surveys is Swagbucks, and they now offer great online surveys in the UK.
What's great about doing online surveys to get money with Swagbucks is the variety. Not only can you do online surveys to earn money, but you can earn points from watching videos, online shopping, downloading apps and just by using their search engine.
How much do they pay?
Swagbucks offer points for surveys and other activities called Swagbucks, or SB – their currency/points system.
You can receive about 5 to 200 SB per survey/activity but there can be some variations here. Again, the surveys you're accepted into depends on the demographics they're targeting.
The good thing about Swagbucks surveys is that even if you are screened out of a survey, you'll still earn 1 SB so it doesn't feel like you've wasted time.
How can you redeem points?
Swagbucks have a great rewards system where you'll find gift cards for amazon and other stores which are broken down into numerous categories so that there's something for everyone.
Score – 4.0/5
Swagbucks surveys are gaining momentum in the UK as some of the best surveys to make money online. They offer real surveys that pay you in addition to other activities making them super easy to earn points and cash.
You'll want to sign up for them now to get in for the best surveys. There's no better time as you can earn your first points just for signing up!
Click here to sign up for Swagbucks.
SurveyRewardz
Another of the best paid survey sites in the UK is Survey Rewardz. For me, they offer some of the best online surveys to make money when it comes to regularity.
Registration is easy where you provide just a few personal details and some additional information.
However, they do not have email reminders for surveys so it can be difficult to know when you have a new one waiting to complete. You'll need to sign in to your account to check. I recommend you do this weekly.
How much do they pay?
You can receive anywhere from £0.5 to £10 per survey you complete with SurveyRewardz. Most surveys are in the lower to mid range of this. Of course, this depends on the length of the survey, difficulty and just how much personal information is required.
How can you redeem points?
SurveyRewardz do have a user-friendly reward system, with the ability to redeem points for a prepaid Visa card, PayPal transfer, Amazon gift cards and cheque.
Score – 3.5/5
Although SurveyRewardz are some of the best in regards to consistency of surveys, they are not my favourite. Still, I recommend being signed up for the maximum chance of making money with online surveys.
Click here to sign up to SurveyRewardz.
LifePoints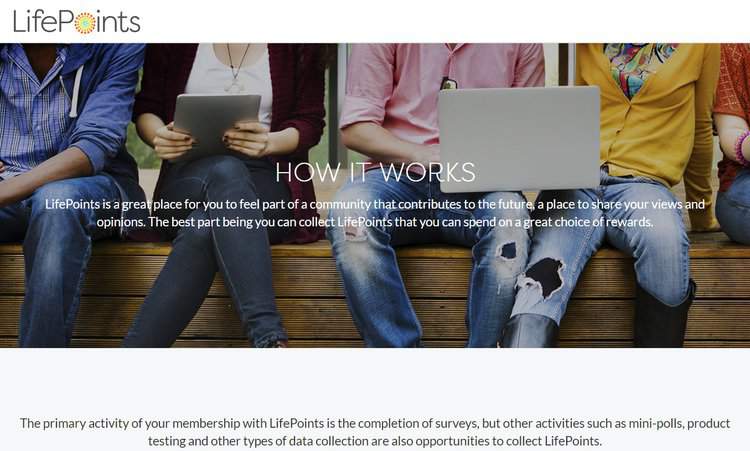 LifePoints is a brand new survey sites which brings together the best of two old survey companies. The biggest draw card for LifePoints for me is the ability to earn cash fast. As soon as I signed up I received points and consistent offers to get paid to take surveys online.
They pay well per survey and have several options for you to transfer points so that they're directly transferable to cash.
There are also options to get free products sent to you for you to review and chances to earn points (and thus cash) by keeping diaries of what you do every day.
How much do they pay?
LifePoints is my answer to which are the best survey sites that will pay. You receive points for surveys you complete, called 'LifePoints'.
You get about 65 to 150 LifePoints per survey, depending on the usual factors of length and difficulty. This translates to about £1 per survey.
How can you redeem points?
You have a few options with LifePoints to redeem your points for cash, such as getting a PayPal transfer.
Score – 4.0/5
With regular survey offers and a decent average pay per survey, LifePoints is a great site to make money completing surveys.
Click here to sign up to LifePoints.
Ipsos i-Say
Some of the best online surveys I've completed were with i-Say simply due to the layout, transparency and ease of use. Signing up is simple requiring just a few personal details. Getting paid to complete surveys with them is easy.
How much do they pay?
i-Say are an international company so points are not set up to synchronize with the pound.
£5 is around 700 points and you can earn a few hundred points per survey.
You also get paid even if you're screened out – about 5 to 25 points depending on how far into the survey you got.
How can you redeem points?
There are limited ways to redeem points with i-Say but they present good value. You can get a prepaid Mastercard, Amazon voucher or a donation to charity.
Score – 4.0/5
i-Say offers consistent opportunities to get paid to do online surveys with a great, user friendly interface. The rewards are limited in selection but with big items like prepaid Mastercard and Amazon vouchers, there is something for everyone.
Click here to sign up to i-Say.
PineCone Research
An exclusive survey site and one of the top paid survey sites is PineCone Research. This website isn't always open for registration, so when they are, it's worth signing up.
How much do they pay?
PineCone Research offers some of the highest paid surveys among the best paid survey websites. You earn points for surveys which can be transferred made into cash paid surveys.
PineCone Research works best when you fill in all this online survey companies profile information. Luckily, PineCone Research send you short questionnaires and rewards you for your survey time spend completing them.
How can you redeem points?
Among the best paid survey sites, PineCone Research offers a whole range of ways to redeem points including cash and numerous gift cards and vouchers. They also have a low payout threshold of just a few pounds.
Score – 4.5/5
You can start filling surveys for money online with no minimum redemption, which means you can withdraw cash as soon as you earn it!
Click here to sign up to PineCone Research.
Opinion Outpost
Opinion Outpost allows you to get money for taking surveys, with entry into quarterly cash prize draws and the ability to turn points into cash via PayPal.
How much do they pay?
A very popular survey site with thousands of reviews online, this is a legit survey site that offers decent pay for your survey time of around a few pounds per survey. You can get paid for referring friends and for participating in surveys. You can opt to do surveys for cash only.
How can you redeem points?
There are several payment methods for redeeming points from paid surveys online, including Amazon gift cards, PayPal payments and even additional entries into sweepstakes.
Score – 4.5/5
Opinion Outpost respected online survey company offering regular online surveys that pay cash.
Click here to sign up to Opinion Outpost.
Panel Base
Another of the survey companies that pay is Panel Base. You can earn money answering surveys with Panel Base as they offer numerous types of surveys for cash. These include online surveys and prize draws.
How much do they pay?
PanelBase are one of my top survey sites that pay cash and my answer to the question of what are some survey sites that actually pay.
You can get paid around £3 – £10 for surveys, and up to £50 for participation in focus groups.
You even get a bonus just for signing up, making your first survey payment easy.
How can you redeem points?
What makes this one of the best paid online survey sites is the ability to be paid cash straight to your bank account. This makes it one of the easiest online survey sites to get paid cash.
You can also get restaurant vouchers and other gift cards. You can even donate points to a greater cause.
Score – 3.5/5
Panelbase offers you the ability to get paid for surveys as well as entry into prize draws and participation in higher paying trials, making it one of my top online survey companies. Personally, I haven't received a whole lot of offers, but that doesn't mean you wont.
Click here to sign up to Panel Base.
Want to learn more? Read about the best survey sites for more money here.