With loads of online survey sites now operating in the UK, earning money during leisure time is now more possible than ever. Having extra time means you have time to make extra money. One of the sites which claim to be the most popular rewards programs, and one of favourites as well, is Swagbucks.
Click here to start doing paid surveys now.
Swagbucks is not your typical paid online survey site as it isn't entirely about completing surveys. They offer a range of options for members to participate and earn rewards such as by watching videos, playing games, searching the web and more.
I will share more about how I successfully earn money online with Swagbucks, and why you should sign up now below.
Swagbucks Review 2023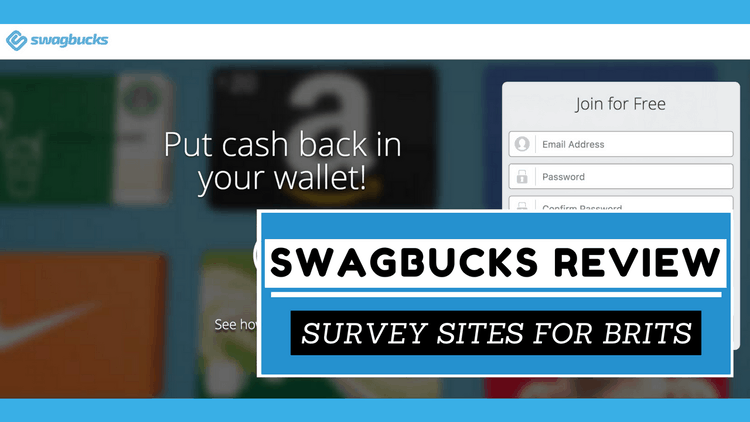 Regularity of surveys
Signing up with Swagbucks is free and simple. You only need to provide your email info and a few basic details about yourself like your demographic and gender. Don't forget to verify your email address so that Swagbucks can welcome you successfully to their site.
After being a member for sometime, I was presented with lots of survey offers and other exciting ways to make money. I've never had to worry about seeing an empty dashboard as there's always various offers. Plus the more active you are on their site, the more rewards and points you earn, thanks to their Loyalty Program.
Earning points
Swagbucks has their own name for their system of earning points – the 'SB' point-system. What makes it fun and exciting is how you can earn these SB points.
From the usual survey completions to watching videos, playing games, web search and much much more, Swagbucks gives you the freedom to choose which way you want to earn SB . You can also earn points while shopping thanks to their cashback system and by simply referring a friend to enjoy the same offers and services.
Points range from 1 SB point to 1000 SB depending on the type and length of the survey you complete. It usually takes around 15-30 minutes to finish one and would normally cost 60-100 points. You can even earn 1 SB point just by signing up to a paid survey that you aren't actually qualified to participate.
I also got an instant reward of £6 right after a successful registration. There's a catch though, of course, I need to reach a specific threshold to withdraw my instant prize. Fair enough, I guess.
Pay
Swagbucks rewards their members in so many ways and they pay well and on a timely manner.
Just like other popular online survey sites, the points earned depends on the survey length and company offers. You earn higher amounts with surveys that take more of your time. A survey typically earns me £2-£3. Some offer more earnings and some offer less depending on my suitability.
How to redeem points?
Once you've accumulated enough SB points, you can use these to redeem various reward options. You can choose to get e-Gift Cards/e-vouchers from Amazon and other well-known brands, or PayPal Cash for specific amount of points.
Another great thing with Swagbucks reward system is the option to donate to certain charities with your SB points. Earning money and doing good at the same time is truly rewarding!
Things to note
Swagbucks offers its members lots of exciting ways to earn money online. You are sure to find one or two that'll suit you.
With a wide range of reward options, more and more survey site fanatics like me are becoming part of the Swagbucks community.
Summary – 4.0/5
Swagbucks is not your ordinary survey site. It offers plenty of ways to make money and have fun at the same time which makes it popular and different.
Make sure to check it out and explore more of their offers and rewards and start earning money online with Swagbucks.
Click here to sign up to Swagbucks now.
Want to learn more? Read about other sites that offer paid surveys and online surveys for cash. Or find all my survey site reviews here.